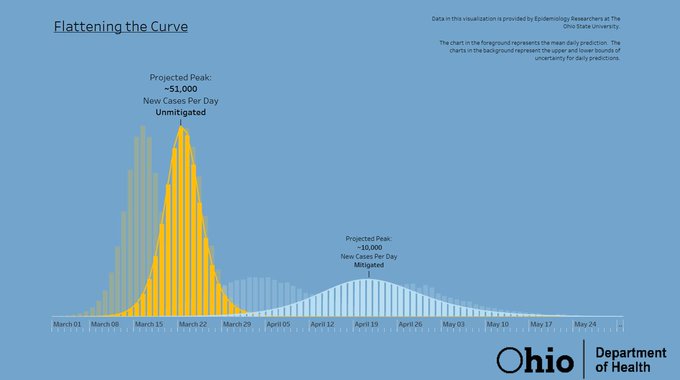 These are frightening times, both here in Central Ohio and around the world. The news and pictures out of Italy are horrid. As the poet William Blake wrote: "To mercy, pity, peace, and love, We pray in our distress." I have said those lines a few times lately. And the USA now has the most Covid cases in the world.
Philosophically, there is an interesting point here. HOW REAL IS SOCIETY? Is society, as a collectivity, as Real as an organism, as a collectivity? At NatieRel, we believe it is, in many important ways. Margaret Thatcher, the famous first women Prime Minister of Britain, did not. Like any good Conservative, she contended, No 'Society'! "There are individual men and women and there are families" and that is all. I say, 'It's like the Virus is running a trial and it seems to be moving through us like a single body.'
Here in Ohio we are waiting for the worst of it to come. LUCKILY, we are blessed with Excellent Local Leadership. Our Governor and his Chief State Medical Officer have been terrific. Our state has attempted to get our in front of this epidemic and we are apparently succeeding. The National Leadership is a different story. Mr. Trump has many short-comings and currently we are in the midst of all of them.
First, briefly, this is the situation in Ohio, a state of about 12 million. As of Monday, March 30th we have 1,933 confirmed cases; 475 hospitalizations and 39 Covid deaths. Unfortunately, only about 30,000 persons have been tested for the disease, so we are told that the real number of cases far exceeds the above figure. The state is on an official Stay At Home Order. Schools have been closed for two weeks so far, and likely for the year. Many businesses have been ordered shut. We are told that in about 4 weeks —The Peak—we could have 6 to 10 thousand new cases a day, for a while!
(Governor DeWine and Dr. Amy "Action". For a Republican administration, they have clearly placed the welfare of all Ohioans first and foremast. "DeWine, Republican for President", you heard it here first!)
Second, a word about who is creating and delivering the message here in Ohio. This matters because They Are Believable People. I am greatly pleased with how our Governor Mike DeWine and his State Health Officer, Dr. Amy Acton, have gotten out in front of this crisis (apparently) and been so effective (apparently). Each day they have appeared at a televised press conference at about 2 pm and spoken clearly, personally and honestly about their perception of this crisis. DeWine is a Republican and it is refreshing to hear him emphasize saving lives not making money.
Acton has been the biggest surprise. Soft spoken, knowledgeable, empathetic, she has attracted a following of her own. Nicknamed, "Dr. Action", she has handled the spotlight as calmly as if directing a 6th grade class. Acton and DeWine have each acted quickly, decisively and in a manner that exudes confidence and scientific understanding.
So, here are THE CURVES and the best I can understand them, latest available 3/27.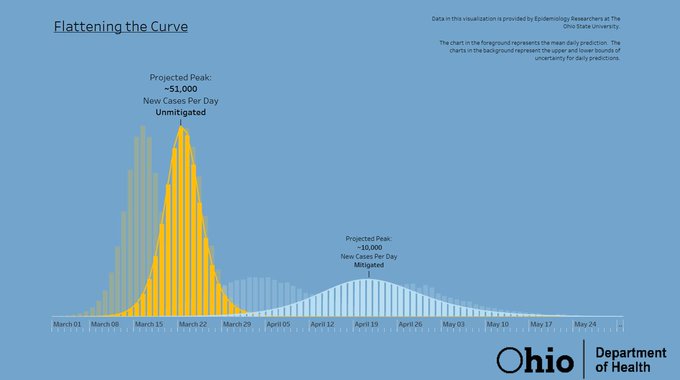 First, it is interesting and scary to see our lives so significantly laid out on an X and Y axis. The scientific world view is laying down a significant wager, a prediction, and its credibility is "on the line", two lines. Already we have charlatans, refusing to accept this scientific prediction, while living their life based on scientific and technological achievements.
The white curve is where epidemiological forecasters at The Cleveland Clinic and The Ohio State University see Ohio now. This is the rate of infection at our current "mitigated" state. "Mitagated" meaning "shut down", "Social Distanced", tested and quarantined if necessary, way of life. The yellow curve is how this infectious disease "would have run its course" without mitigation.
It seems a little like 'armchair quarterbacking', to sit in our current position and say "Whew, look what we just avoided!" But they have the data that past viruses ran that course. The yellow curve shows the whole epidemic lasting about ONE MONTH, and that being March! We would have been almost 'OVER' it! Except for "sweeping up all the pieces" and they would have been massive and horrendous!
On the yellow curve, the peak would have been around 50,000 new cases A DAY (!) and lasted for only a few days. What Dr. Acton has repeatedly commented is that Hospital Capacity is currently about 1/6th that amount! This virus has fairly consistently shown about a 1/4th hospitalization rate of those sick and almost a 1/10th Intensive Care rate! The ICUs would have been totally overrun, as they are currently overrun in Italy and Spain.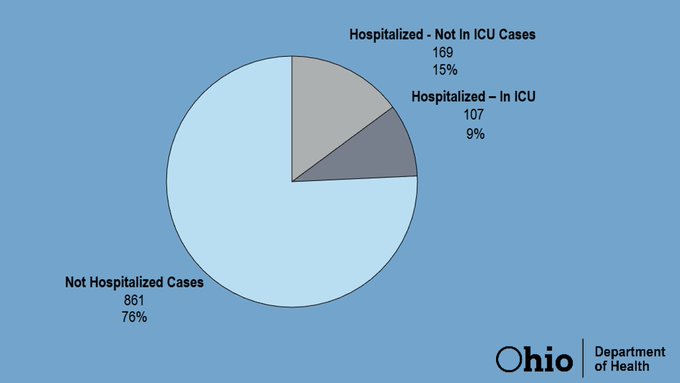 The Same Curves Again, now to focus on the Mitigated (White) Curve.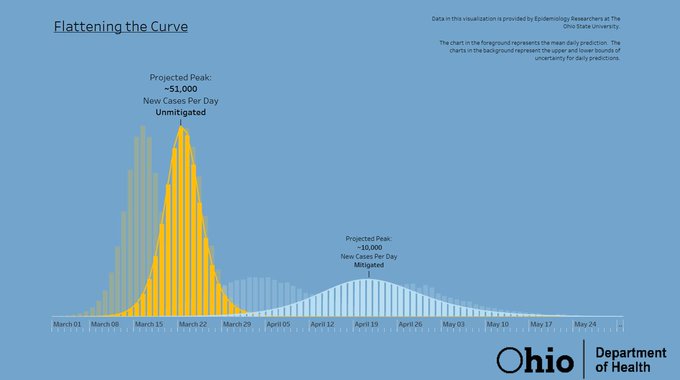 Dr. "Action" likes this curve much better! The white curve is what we actually are on, not a prediction of what would have been. It shows a Much Longer but Less Severe outbreak, maybe two months in total length— latter March, through April and half of May. Acton said today, the peak will occur latter April to first of May. At its peak, they are predicting about 10,000 new cases a day, but this peak is longer, maybe a week or more. This later peak gives us time to build up Hospital Capacity and hold down the gigantic and rapid influx from the yellow curve. But, hospital capacity is still down about 1/3 to 1/2 what will be needed!
The "shadow" yellow and white curves in the background are what earlier predictions suggested and what our new data and mitigation efforts are achieving and possibly achieving. The white curve Could be flattened a little more and the peak smaller and slightly later. All good, says "Action" Amy.
One huge point has been understated thus far; How Many Ohioans Will Get It? This has not been discussed much, outright. Acton has given A Huge Range of Possibility: 40% to 70% will get sick. Now, it seems to me, that is the Colored Areas Under Each Curve. That area is not that difficult to figure mathematically, but still beyond me. It seems, the White Area is noticeably smaller then the Yellow Area. So, the white curve probably shows something closer to the 40% of Ohioans getting sick; the yellow curve predicting that upwards to 70% of Ohioans would have gotten it! So, STAY AT HOME, BUCKEYES!
So today and yesterday, the big news out of Washington D.C. is that nationally the prediction is that from 100 to 200 Thousand Americans might die from this epidemic! Mr. Trump contends that his administration will have done well if it is kept to 100,000! I can't keep myself from really disliking that man!
STAY SAFE EVERYONE, WHERE EVER YOU ARE!!! And thanks for Reading. I don't know if this post has helped you understand this mess, but I feel a little clearer on it.